Enjoy better golf with our professional golf coaching
---
We are a team of award-winning PGA Professionals with vast experience of coaching golfers of all ages and abilities. We are passionate about helping all golfers to improve. Of professionals take an holistic approach to coaching and strongly believe in coaching the individual and not a method as "one size DOES NOT fit all"
Why Coaching?
Our holistic approach to coaching has been our biggest success as many golfer find it very difficult to follow a particular coaching method. Our team assess each and every golfer and we work together to identify the best way to progress and improve.
If our players like data feedback we use FlightScope technology which is one of the leading ball tracking devices and this can be used both out on the course or inside to allow for a coaching experience to suit all types of weather.
Lessons will cover:
Golf Fundamentals
Swing Basics
Short Game
Long Game
Course Management
Video Analysis
Data Analysis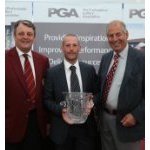 Craig Thomas - Director and PGA Professional
Craig was one of the first to qualify with honours as a PGA professional through the foundation degree programme at The Belfry. During his time as a professional Craig has used his knowledge and skills to help golfers of all levels of golfers from the complete beginner to the Professional golfer. Craig takes a very open approach into every golf lesson and will work with the individual to find a technique/style that is best suited to them along with applying the key fundamentals. Craig has won several awards for his work in recent years including The Golf Foundations Burroughs and McKenzie awards, Toby Sunderland PGA award 2012 and Midlands PGA Professional of the Year 2013. He also achieved advanced professional status in 2013. He has also worked with Olympic and Paralympic athletes and Ladies European tour players. Craig has taken his passion for coaching to another level and is now working very closely with local and nation Disability Groups to help increase participation by disabled people. Craig likes his lessons to feel that he is more than just a golf coach and is someone that can be confided in and is approachable and will therefore always endeavour to maintain communication with his lessons. Craig's Tip To Help You Improve Your Golf... "Use your time on the range effectively. Bashing balls for hours on the range is not an effective way of improving your game. Every time you hit the practice ground, make sure you set out a structure and a set of goals"
---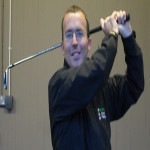 Craig Fletcher - Director and PGA Professional
Craig has used the PGA Professional Diploma and PGA tournament play to create his own simple and effective method to approaching all pupils. Find the biggest cause of the individuals fault and have useful and simple motion drills to improve their technique. Very straight forward explanation with no technical information needed. Craig takes time to establish the real faults and holes in players game with a statistics based feedback system he uses to create his own winter practice program. He feels that most people hit far to many balls without correct thought or idea, his plan would be to take control of a players future and not leave their destiny in the hands of trial and error, experimentation or sources that don`t know the individual. Craig takes as much pleasure showing someone how to hit an amazing shot as he would playing the shot himself. Craig's Tip To Help You Improve Your Golf... "Tempo and routine is key to success but having clear principles and structure to each shot leads to the best results under pressure ".
---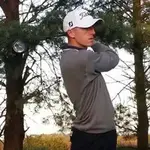 Mitchell Fairfax - PGA Professional
Mitch is one of the newist additions to the team. Currently, Mitch is undertaking his final year of becoming a fully qualified PGA professional. Mitch's passion for teaching and ability to gain insight using the latest technology and teaching methods along with his effective communication of this information to golfers, from beginners to pros has resulted in Mitch being a highly sought after coach even before he finished his PGA qualification. Mitch believes every player and their swing is unique and as a result, Mitch does not promote a specific swing model. Instead, Mitch works backwards by first identifying ball flight patterns and principles to work on in order to correct swing faults or help control the ball flight.
---
Massive thanks to Craig Thomas for all the tips and advice during my course of lessons at Oxley Park Golf Club in Wolverhampton. Today for my on course lesson the weather was awful but Craig was permanently upbeat and encouraging. Don't know why he's in the Top 50 of golf coaches his dedication and abilities should result in him being in the Top 1. Anyone wanting to improve their game, whatever level, could not do any better than contacting Craig.
Simon Baker - Visitor
I started having lessons about a year ago with Craig Thomas and have seen a huge improvement in my game. I have recommended The Golf Academy to other members of my golf society and now 4 or 5 are having regular lessons with Craig all of which have great things to say. All of The Golf Academy Team are really friendly and helpful. Thank you.
Dan Smith - Visitor
David - Finally Won a Society Event Mate - Leek Champion 2021 Craig - Absolutely Fantastic, Very proud of you and the hard work has paid off David - Cheers Mate, everything just came together. It's only taken me 6 years haha! But thanks to your coachingmy game has really come on, so I thank you for that mate.
David Ridgeway - Club Member
If anyone requires top class golf coaching I can't recommend Craig Thomas at TGA enough. He has brought my game on tremendously over the 2 years I've been working with him and he has helped me improve my game and get the most out of enjoying our fantastic sport.
Simon Rollason - Visitor