GOLFERS REAP THE BENEFITS OF DISABILITY COACHING WITH ISPS HANDA
Ahead of the ISPS HANDA Wales Open Sponsors Day, the clinic took place on the driving range of The Twenty Ten Course and included some of the disabled individuals that have benefitted from the help of locally based PGA Professionals.
The ground-breaking initiative backed by ISPS Chairman and leading Japanese philanthropist Dr Haruhisa Handa, whose support for golf is founded in a belief in the "power of sport", aims to help more blind and disabled golfers receive tailored lessons and coaching by registered PGA Professionals in the UK.
Tom Beard, Mark Smith, Lesley Bain and Jordan Rosser were all benefactors of professional tips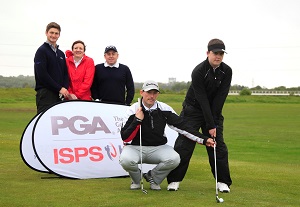 and advice from PGA Academy Tutor Craig Thomas. Jordan, of Rhondda, who suffers from autism recently won the 2013 'Race to Wales' Trophy and has been so impressed with the coaching he wants to do it himself.
"If it wasn't for the coaching I have received through the ISPS HANDA PGA Academy Programme I don't think I would be where I am today" said Jordan. "Golf has really improved my life and gets me out of the house and interacting with new people. I can't thank Craig enough for all his help and if he wants to give me a job one day I'll be ready!"
Tom Beard also heaped praise on the clinic and the work being done, "The whole day has been great" said Tom, who suffers from club-foot syndrome. "Before finding Craig and the work of ISPS HANDA I really was at a loss as of where to find the disability coaching I required."
"When you hit a good shot, you get that feeling that golfs the best sport in the world" said Lesley who was diagnosed with multiple sclerosis just over a year ago. "Thanks to ISPS, The PGA and Celtic Manor Resort I've had a day I will never forget."
Celebrating the second anniversary of its launch, the ISPS HANDA PGA Academy Programme has educated 204 coaches who between them have already delivered over 1,730 coaching sessions to blind and disabled golfers within the UK.
PGA tutor Craig Thomas said: "Disabled golfers are crucial to the growth of the sport so it's great that through this programme we are dispelling the myth that golf is elitist and exclusive. It's with great thanks to ISPS HANDA and The PGA that we are able to continue to show just how inclusive golf really is."
Celtic Manor Resort Chief Executive Dylan Matthews said: "We are delighted to see the wonderful work being performed by the ISPS HANDA PGA Academy Programme since it was launched at this Sponsors Day two years ago.
"We are, as always, grateful for the support of our title sponsor at the ISPS HANDA Wales Open and eager to embrace any initiative which empowers blind and disabled people to play this great game."
The ISPS HANDA Wales Open takes place just one week before the eagerly anticipated 2014 Ryder Cup when it takes place at Celtic Manor from September 18-21 and is the last opportunity for players to acclimatise to the UK with competitive action before Gleneagles.
For further information, visit www.ispshandawalesopen.com or call 01633 410318. You can also follow ISPS HANDA on Twitter at @ispsgolf and Celtic Manor at @TheCelticManor